Clear Aligner Therapy Near You
Gone are the days of realigning your teeth with clunky, inflexible metal. Modern developments in dental technology and services allow you to improve your smile in several ways as opposed to exclusively using traditional metal braces. One particularly great option that has grown in popularity over the years is clear aligner therapy.
For more information about receiving clear aligner therapy in Mokena, get in touch with our local dental practice today!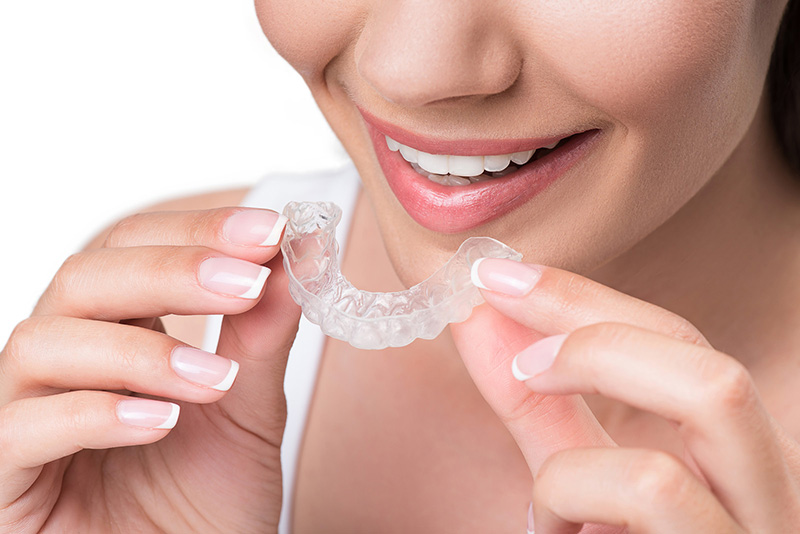 What is Clear Aligner Therapy?
As is evident by the name, clear aligner therapy is a specialized orthodontic method that uses clear trays to straighten your smile, repair your bite and improve the overall cosmetic appearance of your smile. These clear trays are made from high-grade dental plastic; this material is flexible and won't irritate your gums.
These trays are customized to fit your oral dimensions and fit over your top and bottom row of teeth. Your dentist will take a series of x-rays and make impressions of your teeth, both of which are sent to the dental lab where your trays are fabricated. These trays exert constant pressure on your teeth which promotes bone growth and movement. By the time your treatment is over, your teeth will have shifted into a healthier position.
Invisalign and Clear Correct are two popular forms of this treatment.
Speak with our dentist or orthodontist to learn more about receiving clear aligner therapy near you. They'll be able to tell you whether you're an ideal candidate for this process, or if another approach would be more suitable for your unique dental case.
The Benefits of Receiving Clear Aligner Therapy in Mokena
There are numerous benefits to receiving clear aligner therapy in addition to straightening your teeth, and they are:
It's comfortable! No sharp edges or brackets are present to poke your gums and cause bleeding and soreness.
They're invisible! A lot of people are self-conscious when it comes to wearing braces. Fortunately, with Clear Correct, only you and your dentist will know you are undergoing orthodontic treatment.
Better oral hygiene. Since these trays are designed to be removed, you'll be able to brush and floss your teeth properly, thereby reducing bacteria and plaque from gathering in your mouth.
You don't have to alter your diet! Unlike traditional braces, you don't need to avoid eating crunchy, hard foods.
It saves you time. When you receive clear aligner therapy near you, you'll have to return to see your dentist or orthodontist regularly. Compared to traditional braces, you'll only need to come in for a checkup and to receive a new set of aligners about every six weeks or so.
It'll boost your self-confidence! When you look in the mirror or get together with friends, a fabulous new smile that you can be proud of will be the first thing they'll see!
Are you interested in receiving clear aligner therapy in Mokena? Call, come in, or visit our website to get started! Our staff is here to answer all your questions and walk you through the process from start to finish so you know exactly what to expect. We look forward to working with you soon!