Porcelain Veneers Near You
Did you know that teeth whitening isn't the only way to effectively brighten your smile? Dental veneers are another fabulous treatment to consider receiving. If you dutifully brush, floss, and come in for regular dental cleanings and checkups, your veneers should last up to ten years or more!
For more information about receiving porcelain veneers in Mokena, IL, contact our dental practice today! Our top veneer dentist near you is here to address any questions and concerns you may have about the process.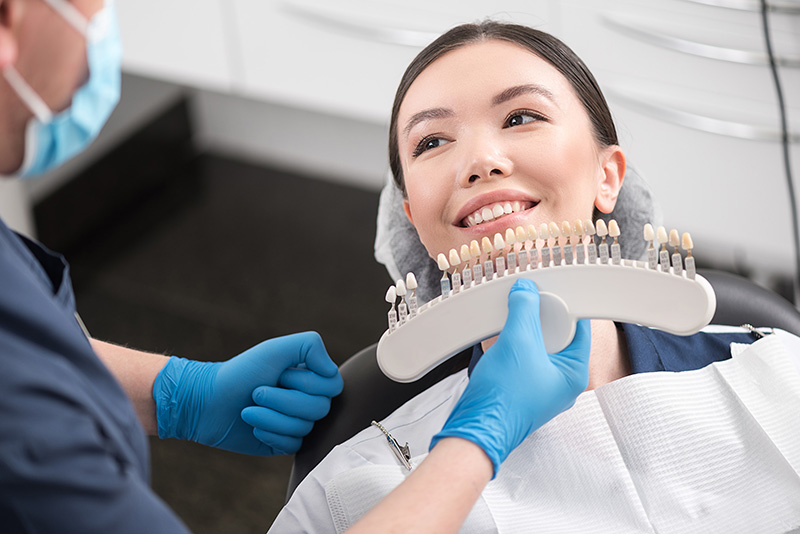 What are Dental Veneers?
Also known as porcelain veneers, dental veneers are thin shells designed to mimic the natural shade of your smile. These coverings are bonded to the external surface of your teeth and help hide minor cracks, chips, discoloration, unsightly gaps between your teeth, and teeth that are irregularly shaped.
Before receiving porcelain veneers near you, it's a good idea to book a consultation with our dentist first. They'll be able to identify whether you're an ideal candidate for this process or if an alternative would be more appropriate.
Receiving porcelain veneers requires two different appointments. Your first visit will consist of a comprehensive oral examination. Our dentist will most likely take some x-rays of the internal structure of your teeth and gums. Next, they'll take molds of your teeth, so your veneers fit you precisely.
Our dentist will have to etch off a bit of your enamel so that the coverings will bond to your tooth better. It takes between two and four weeks to make your veneers. Once they're done, you'll return to have them applied. Our dentist will make any last adjustments before letting you go. And there you have it, a beautiful new smile tailored just for you!
Get in touch with us if you're looking to receive porcelain veneers near you! You deserve to love your smile, and we want to help you with that. Call or visit our website today!